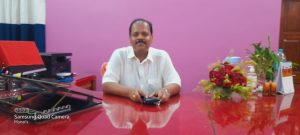 Dukhulal Nibaran Chandra College was emerged from the dream of the considerable number of dedicated social workers for the interest of ensuring higher education of the people residing within the territory of Aurangabad, where the majority of individuals are Beedi workers. Over the years it has become as premier higher learning institution within the district of Murshidabad. It's  rise to prominence over its fifty-six years of existence  is the outcome of the contribution of dedicated as well as disciplined staff, the enthusiasm and inventiveness of graduate and undergraduate students, the passion of the alumni to make a difference in the society, and the active engagement of our government, donors, partners and supporters from all the corners  of the society. However, more importantly, the Management, the Staff Council, as well as the Academic and Administrative staff, have all played an enormous role in ensuring that Dukhulal Nibaran Chandra College remains the Fountain of Knowledge as it is today.
I invite you to explore the outstanding teaching, support, flexibility and a wide range of academic programs and extra-curricular offerings which DNC College has. I believe that all these elements come together to create a transformational student experience. Our students have emerging leadership abilities, which are sufficient to shape tomorrow's world. Generations of students, staff and alumni have built our reputation, and I am confident that the DNC College community of today and tomorrow will add to this prestigious reputation so as to transform this iconic institution as a leader of higher learning institutions within the region.
We convey lot of thanks to our students for having chosen Dukhulal Nibaran Chandra College as your second home of education. We further extend our gratitude to parents for having entrusted us with their children's education.
Dr.Somnath Bandyopadhyay
Principal
Dukhulal Nibaran Chandra College